Today was the law school graduation ceremony. By law school edict, faculty members marched into the assembly hall dressed in the pleated polyester bubble suits we so fondly remember from our graduation. It was quite a Harry-Potter-esque fashion show, with each professor sporting a different robe cut, robe color, hood design, and head dress, depending on his or her alma mater. The
Slytherin
Harvard grads deserve"best in show" this year: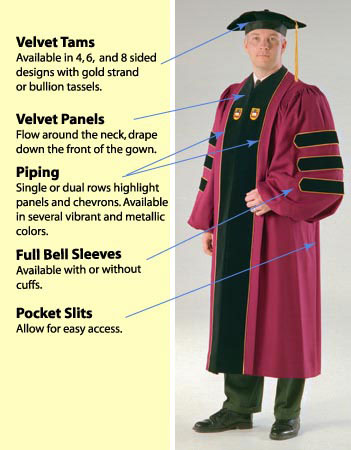 (By the way, I think magic wands will be
the
must-have accessory for graduation 2009. Reserve next year's graduation attire
here
.)
To join in this academic fashion show, I picked up a set of regalia yesterday. Based on the exchange I had with the regalia rental representative, I think I may not look professorial enough.
Me: I'm here to pick up a set of faculty regalia.
Rep: What's the name?
Me: Nunez.
Rep: I don't see a set for Nunez. We'll have to just put a set together now. What's the degree?
Me: J.D.
Rep: How tall is he?
Me: Who?
Rep:
Professor Núñez.
Me: I'm
Professor Núñez.
Rep: Oh. (akward silence). I thought you were picking up for a profe-- How tall are you?
Me: 5 foot 6, but I'll be in heels.
Rep: Okay. (Hands over regalia and gently places cap on my head.) That looks good.
(I pay for the regalia with the department purchasing card.)
Rep: Congratulations on graduating!
Me: (confused) Thanks.

Luckily, there were no regalia police present at the graduation ceremony today, so I dispensed with wearing the cap, which was just as well, because the look suits Alex better than it does me.